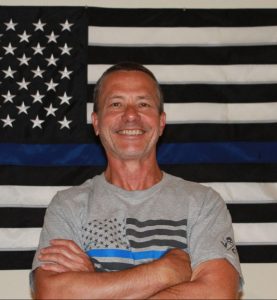 Charles "Butch" Greathouse is a retired Special Agent with over 26 years of service to the FBI and one of the founders of FedBoost®. Butch spent 16 years of his FBI career as a Physical Fitness and Defensive Tactics (DT) Instructor at the FBI Academy in Quantico, Virginia. As an instructor, Butch challenged thousands of Special Agent trainees to take their fitness training to the next level earning him the nickname "the Greathouse of pain." Butch prepared himself for a career with the FBI by earning a B.A. degree from Stetson University in Deland, Florida, and a J.D. degree from the University of Florida.
After graduating from the FBI Academy in 1990, as the top fitness test performer in his class, Butch spent the first nine years of his Special Agent career primarily working major drug trafficking investigations along the south Texas border. Butch's passion for fitness and his desire to help prepare new trainees to be Special Agents led him to accept a promotion, in 1999, to an instructor position in the Physical Training Unit (PTU) at the FBI Academy.
As a member of the PTU, Butch managed the Physical Fitness Program for the entire FBI and led the effort to develop and implement the FBI's current Physical Fitness Test (PFT).  He was responsible for establishing the passing standards for the PFT and drafting the exercise protocols for the test events. With the assistance of the FBI's highly qualified staff of Health and Fitness Instructors, Butch developed and taught the curriculum used to prepare Special Agents to serve as FBI Physical Fitness Advisors (PFA) in field offices throughout the U.S. As one of the longest serving instructors in the PTU, Butch has personally graded more trainee PFTs than any other Special Agent at the FBI Academy. He also assisted in developing the DT program used to prepare trainees to serve as Special Agents and provided instructor level DT training to federal, state, and local law enforcement agencies all over the country. Butch trained entry level Special Agents and DT instructors in the areas of arrest tactics and procedures, to include handcuffing, resistant subject control techniques, ground fighting, and less-lethal weapon options.
As an FBI instructor, Butch continued to advance his own knowledge and skills by attending numerous physical fitness and DT courses and seminars provided by experts in their fields. Butch is certified by The Cooper Institute as a Law Enforcement Fitness Specialist and has completed The Cooper Institute's specialized course on the principles of strength training. He has received specialized training in resistant subject control techniques, as well as ground fighting, and edged weapons defense. Butch brings his passion and his years of experience as the FBI's Physical Fitness Program Manager and a DT Instructor to FedBoost® and is excited about providing practical and effective training to current and future law enforcement officers.